VentriJect is built on world-class leading research within cardiology from the researchers Samuel Emil Schmidt (Associate Professor), Johannes Jan Struijk (Professor), and Kasper Sørensen (PhD student) from Aalborg University, and Peter Søgaard (Chief Physician and Clinical Professor) from Aalborg University Hospital.
VO2max is the primary measure of a human's cardio-respiratory fitness (CRF) – the ability of the lungs and heart to supply oxygen to tissue and organs and eliminate carbon dioxide. Measuring VO2max is usually expensive, time-consuming and requires the subject to exercise until exhaustion.
The American Heart Association came with a statement article in 2016: "CRF, quantifiable as VO2max, should be regularly examined as a clinical vital sign in general clinical practice as probably the strongest indicator of health".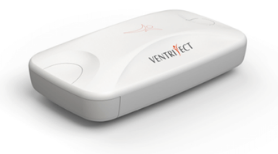 This measurement can be done by utilizing VentriJect's Seismofit Device, which easily provides a recording of body vibrations induced by heartbeat. This provides the individual, quickly and without any need of exercising, with determination of CRF valuable both for general health but also check of personal progression in fitness for both professionals and amateurs.
VentriJect has obtained funding for the first part of their journey from among others the Innovation Fund and Vækstfonden, and expects a CE-approval of their product, before the end of 2020.
By combining research engineers, clinical doctors, and people with high development and commercial skills, the correct team was made to bring this technology to the market. The company has obtained exclusivity to two patented technologies owned by Aalborg University via the Technology Transfer Office at Aalborg University.
ADDITIONAL INFORMATION