Industry 4.0 and digitalization is starting to transform the way companies produce and manufacture goods. Moving from Industry 3.0 and its adoption of computers and automation in manufacturing, Industry 4.0 enhances it with smart and autonomous systems driven by data and machine learning.
However, with the many new technologies and tools within digitalization and automation, companies find it difficult to navigate through the many possibilities and lack transparency in their decision-making.
Imagine being able to get a holistic understanding of, how the implementation of a certain technology would affect your production system, the people working with it and in the end your business - and in that way improve your decision-making.
This is possible with the Move2x Awareness Game. Move2x is a spin-out company from Aalborg University established in Aalborg in 2019. The two founders Steffen Tram Mortensen and Kelvin Koldsø Nygaard have both researched in Industry 4.0 and digitalization with a focus on manufacturing companies. For several years, they have both been a part of the Smart Production Lab at Aalborg University, which also works as a demonstration facility for the Move2x Awareness Game.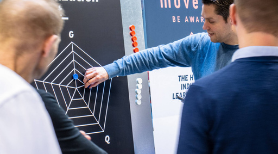 With the game, companies can get hands-on experience with a range of new technologies and their interaction, as well as the qualifications needed for managing them in a physical manufacturing facility. In addition, realistic challenges, such as breakdowns or hacker attacks, are introduced in the game play. In this way, Move2x empower companies in their decision-making, as they gain awareness and inspiration about how new technologies may be integrated in their production, and can create an impact across several functions.
Move2x helps companies make the shift to a new technological era, in order to improve their business through digitalization and the right qualifications.
In the process of establishing Move2x, the Technology Transfer Office and Open Entrepreneurship at Aalborg University have guided and assisted the team within modelling their business plan. The focus was on emphasizing, that gamification of innovation, not should be considered typical consultancy work, but a product of strong scientific research; in order words: science of innovation.
Furthermore, AAU Technology Transfer Office and Open Entrepreneurship assisted Move2x in the process of writing their application for the Innovation Fund Denmark, addressing key areas of weaknesses, and later on, preparing them through a couple of iterations, for their pitch for the fund.
The work resulted in an InnoFounder Experienced Grant from the Innovation Fund Denmark in 2019.
ADDITIONAL INFORMATION