Fetal Growth Restriction (FGR) is an under-diagnosed health condition for unborn babies. The condition can create pregnancy complications, which may result in emergencies and lifelong diseases, yet under the current standard of care, many FGR cases are not detected prior to birth.
After 10 years of research, clinical trials and development, the Danish company Centaflow is now ready to make a difference with their perfected signal acquisition device for early detection of FGR.
A PRODUCT PROVEN BY SCIENTIFIC EVIDENCE
Through close collaboration with healthcare professionals and after monitoring thousands of pregnant women and their babies, Centaflow have developed their new device, a biosensor, based on the analysis of sounds from the pulse rate in blood vessels around the placenta and sounds from the baby's cardiac valves. The device enables easy access to new knowledge about the function of the placenta, that until recently required an ultrasound scan.
The biosensor is wireless and can be used from a very early stage in the pregnancy and until birth, with particular interest in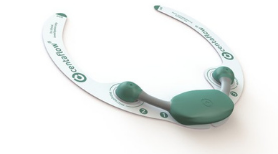 pregnancies where there is a risk of the baby's placenta not receiving the needed supply of blood. This could either happen because the placenta is not working as it should, or because the mother has a risk condition such as high blood pressure or diabetes.
Today, in such cases, the mother is offered a series of check-ups at the hospital with specialized ultrasound scans. However, due to the wireless design of Centaflow's device, it can be used as a diagnostics test that works for longer periods at a time – e.g. during home monitoring. This provides the pregnant woman with the benefit of more flexibility, but also safety at home, during pregnancy.
Centaflow also creates new opportunities on a global scale, where the device could make a difference, especially in developing countries, as pregnant women are currently not offered monitoring, like ultrasound scans, as they do in e.g. Denmark.
VITAL KNOWLEDGE INCREASING DECISION-MAKING SKILLS
Knowledge about the placenta's function and, hence, the baby's oxygen supply is the most essential information about an unborn baby's health condition – through the entire pregnancy, but also during birth itself, where the baby's health is challenged by hours of labor.
If the function of the placenta is affected by an inexpedient blood flow, the baby's health could be threatened. This knowledge is vital, as the consequences of impaired placental function can affect the baby's condition, and may be a matter of timing: when is the baby better off coming into the world than being dependent on a placenta that cannot supply the necessary oxygen and food?
Centaflow can, therefore, benefit health professionals and increase their decision-making skills. However, besides the benefits during pregnancy, the biosensor can also provide valuable knowledge regarding future aspects for both mother and child.
The pregnant woman's cardiovascular system is 'stress-tested' during a pregnancy, and if the function of the placenta in a current pregnancy is affected, it may affect the next pregnancy as well. Hence, it would be advantageous to receive preventive medical treatment from the beginning, if the woman should be pregnant again.
For the child with the affected placenta function, it could mean that he/she would have an increased risk of a number of diseases in adulthood such as circulatory and metabolic disorders.
SHAPING THE DEVELOPMENT OF CENTAFLOW
Centaflow emerges from a ten-year initial research and development phase, and builds upon a groundbreaking technology developed at Aalborg University. The first product launch is expected to commence in Denmark in 2022, followed by other Scandinavian countries, before a global rollout will be pursued.
Behind the pioneering technology is midwife, PhD and Director of Medical Affairs at Centaflow, Diana Riknagel together with Associate Professor Birthe Dinesen and Professor Johannes Struijk from the Department of Health Science and Technology at Aalborg University.
Centaflow is yet another successful example of a product, conceived by one of our students, attracting early interest of an innovative company and further developed through a combination of engineering research and clinical studies. It was a real collaborative effort of the student, researchers, clinicians, tech transfer and an impatient but visionary company, all of which have been indispensable for reaching the final result. Also, the enthusiasm of the health care personnel, eager to get something that really works, was inspiring during the whole process - Professor Johannes Struijk
Today, Centaflow is a spinout company from the telehealth company Viewcare A/S. In collaboration with AAU Technology Transfer Office, Viewcare has been a part of the commercial development of the technology. The collaboration has until now led to three patents, while a CE-approval of the product is expected during 2021.
In January 2021, Centaflow completed an investment round which ensured funding of a total DKK 100 million from lead investor Haldor Topsøe Holding A/S together with the Danish pension fund PKA and a number of private investors.
Reflecting the public interest in addressing FGR, Centaflow has received keen interest from both Danish universities and hospitals, and with the new long-term investors, Centaflow can enable their strategy of contributing positively to the health and wellbeing of future generations.
ADDITIONAL INFORMATION