Originally invented for the EU AAL AxoSuit project in the AAL Joint Programme, the sensor technology used in the BioX AAL-Band, is today the core of BioX, a spin-out company from Aalborg University.
The BioX AAL-Band, based on knowledge of bio-mechanics, robotics, and machine learning, enables the user of the wearable technology, to control devices with a wave – such as a robot in a production facility.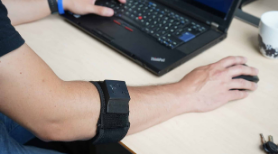 By using FMG technology and IMU sensors, the AAL-Band have a range of applications and is capable of functioning reliably in industrial environments. The applications are, among others:
General human-machine/robot interface
Control of exoskeletons
Research and education platforms
The team behind the sensor technology and the AAL-Band is Shaoping Bai (Professor), Ole Madsen (Professor), and Muhammad Raza Ul Islam (Research Assistant) from Department of Materials and Production at Aalborg University.
The Technology Transfer Office at Aalborg University have ensured an exclusive license agreement for BioX, and in tight collaboration with Open Entrepreneurship, created a sustainable business plan for the spin-out company.
ADDITIONAL INFORMATION